ABOUT MAMA'S AND BABIES
This part of Play Kenya, The Kindness Project, is both needed, heart breaking and rewarding, while being challenging and life changing. The fact it exists is beyond imaginable. It truly is a part of what we do, that we carry in our hearts, and wish it wasn't needed, but it is more than needed. Without supporting these babies and their Mummies, the simple fact is that many young children won't live to see their third birthdays.
We have recently welcomed a 24-year-old Mama into our family, who is 8 months pregnant with her fifth child. She is beyond tiny, despite her prominent bump, which clings to the bones that make up her body. She looks 20 years older than she is, and her silent tears, cascade down a face, that holds so much trauma, it is unbearable. Her thin body is wracked in pain, as she recalls sleeping on cardboard, next to a busy walkway, where her pregnancy and existence disgusts the many passer-by's.
Her crime is unknown to her. Her story destined to destroy her crumbling belief that there are good people in the world. Her physical and emotional pain, etched on her aged and empty face. Her silent tears a testimony to her years of silent suffering.
She has a daughter who is five years old, and tears in her heart, where her other babies should be. Three of her babies died, living, or not living, on the very hard streets. They were damaged by lack of nutrients, the deep deep cold that attacks Nakuru in the rainy season, when living on a wet, lice infested mattress, watching peoples' feet speed up as they approach you. Their tiny lives empty of kindness from those of us who could have helped. Their Mama, begging for their lives, but her words screaming into deaf ears. So one by one, her babies passed through living hell, and gave up. Three babies, none of them survived past three years. Each time one of her babies gave up on a life that killed them from the moment they were born, this Mama died too. And yet here she is, eight months pregnant again, father unknown. Her life depends on the men that use and abuse her for the price of a cup of tea. Another baby: more fear and more opportunity to lose again.
Play Kenya are very active in the local community where we work with many families and young people who, through no fault of their own, live on the violent, drug filled, and sexually abusive streets of Nakuru. Many of the girls that arrive from abusive and frightening home lives, find themselves starving, scared, and turn to drugs and prostitution to survive. How is this living? How can they survive with no welfare state to support them? No possibility of rising from the streets that drag them to drugs, alcohol, and violence.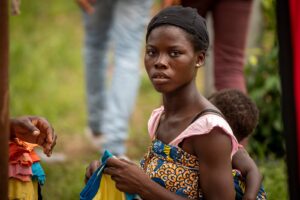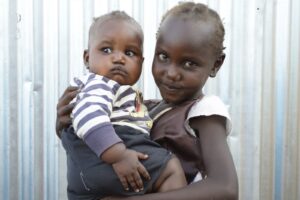 That Play Kenya is welcomed by these women, is due to the dedication and kindness of the team here. We are here to help, and not to judge. That doesn't mean we turn an eye away from the needs of the child. That doesn't happen. It means we work closely with the Children's Department to protect the children from a life of abuse, that often starts by them being given glue to sniff in the first days of their lives, to stop them crying. That is far from alright and cannot be ignored. It means, we support the women to parent their child, but the safety of the child is the most important thing. Often, these Mama's need a house, food, and kindness, alongside an understanding of connection and motherhood, so easily missed when they come from lives of abuse, neglect, and emotional coldness themselves. They need parenting to parent, but always the focus is the child's safety, and if that is compromised, we will act, alongside the authorities, to ensure that child is taken to safety, while we continue to support the mamas.
This project carries hope and fear in equal measures. Sometimes, as in many of our mama's, success is there for the taking, as they parent their babies in safe houses, with food, love, and support. For others, success is the removal of their babies, to a place they can be loved and nurtured, while we walk alongside the empty arms of the mother, to ensure they understand and practise birth control, and with love and kindness, nurture themselves back to a place of loving themselves, before they try to love a baby again.
If you would like to help this huge project, we are looking for sponsors, to help care, love and support this damaged and essential product of an uncaring society. Please visit our donate page here, and set up a monthly donation, or a one-off payment. Please join our mailing list, where we can keep you informed of how you are changing lives, one breath at a time.
We Choose Kindness, to change a world where kindness has been frozen out. We ask you to walk with us, until these mama's love themselves enough to love their babies, and can stand alone.