FOOTBALL IS SO MUCH MORE THAN JUST A GAME. IT IS LIFE.
As far back as 2007, football has been at the core of all things Play Kenya. Without football the Play Kenya street family would be so much smaller as many of our boys would not have survived.
It was through building football into the weekly activities for the young men that lived on the streets, that Play Kenya were able to start building the relationships that have released many children from a life of fear, violence, drugs and early death.
Back in 2007, Play Kenya started to build a community of 16 boys aged from eight years old to fifteen, who were surviving a waking hell, homeless on the desperate streets of Nakuru.
One of the boys described living on the streets of living in hope that you would die a painless death and find freedom in the next life.
Every day the children in town lived in fear of their peers, the older street men, but most of all the police. They would be systematically beaten and imprisoned for the crime of being a child with nowhere to call home. In a bid to survive they made street families with other lice infested children and formed communities to survive the daily horrors of living on the streets of Nakuru, Kenya. They passed each day by surviving on a cocktail of drugs and fear. The glue and aeroplane fuel that they begged and stole to buy each day, was their insurance policy against pain, hunger, cold and fear.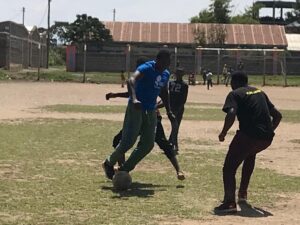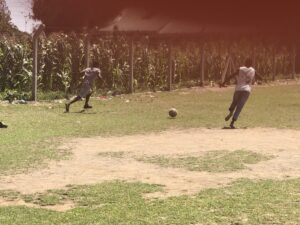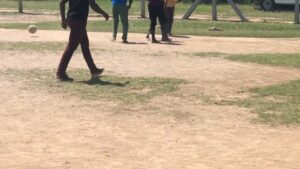 Football changed that and became their lifeline and gave them hope of leaving the streets behind. Three times a week 16 street boys would meet us to play football, exchange their clothes for clean ones, eat a hot meal and access therapy. Slowly, so slowly they showed the beginnings of survival through building new relationships, some better than others, and eventually they came off the streets into a therapeutic, loving community. These boys have many many successes. We have chefs, mechanics, boys in college, tailors and hairdressers in our forever extending family now.
Football helped them manage rules, build relationships, to understand the importance of boundaries and connection. Performing on the pitch became a vital part of their lives and led to many of them giving the glue that hindered their performance. It opened them up to a world where the feeling of joy outweighed the feeling of fear.
Without football there was no Play Kenya. Without Play Kenya our boys would be in prison, drug destroyed or dead.
From the core of our first 16 boys, our family is forever growing and now includes girls, young families that have toddlers and babies who without the support of wonderful organisations simply wouldn't survive.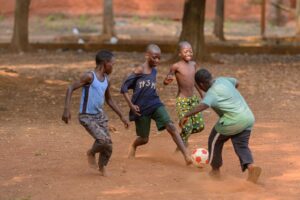 The Play Kenya Therapeutic Football Programme facilitates homeless boys and girls who live on the violent drug fuelled streets to access vocational and educational courses, rehabilitate from drugs and become active leaders within their communities.  The football programme delivers ongoing success to street children and transforms communities.
Three times a week,  street children meet us to play football, exchange their rags for clean clothes, eat a health nutritious meal and access group therapeutic support.
Our ask:
For this life changing programme to continue and grow we are asking you to help to sponsor the Play Kenya Therapeutic Football Programme. For this we need financial support or items to ensure this programme runs and continues to deliver success.
The ongoing purpose of this Play Kenya Therapeutic Football Programme is for our street children to have an opportunity to:
build relationships
develop social skills within a team
respect boundaries and rules
enjoy nutritious, healthy meals
access therapeutic group support
coaching and mentoring
addressing gender inequality
use football catalyst for behaviour change
Due to Play Kenya's Therapeutic Programme many homeless street children swap their drugs for connections and relationships, allowing many of them to access ongoing education and employment.