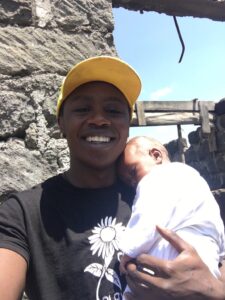 Peter Njuguna Biography
My name is Peter, and I grew up in the life of the very children and families we now support. I want to help children and adults with trauma to help themselves, and believe in love, kindness, and boundaries.
I spent many years experiencing the very approach we now take to all parts of our organisation, and I know the only way to change a life is through connection and kindness. I have huge excitement for this project, and the connection of all involved, from our Founders and Directors, down to the tiny babies we care about; it's like an invisible string of love that joins us all together.
I am excited to use all my skills of cooking, therapeutic thinking and fun to make a lasting difference, in the same way Play Kenya did for me. I believe in giving back and it always being about change for the better. I am equally happy talking to the street community, delivering training, or feeding babies!
Working here is sometimes tough. I see things I wish didn't happen, but I will never turn my back on those who need us, however difficult. I am grateful every day, for my family that love me, and the team I work with.