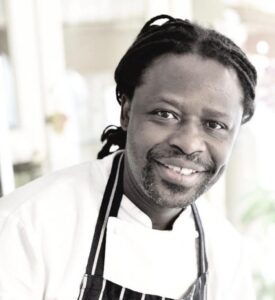 Dennis Mwakulua Biography
Executive Head Chef – Lexington Catering
Dennis is a self-taught chef, he has been in the industry for approximately 16 years now and currently works for Lexington Catering at one of their flagship contract called London Business School.
Dennis started as a Kitchen Porter in 1995 quickly worked his way up the ranks through his passion and curiosity for food, which has led to exciting opportunities of working along side some of the most highly acclaimed chefs in the trade across the world. A master class with Marco Pierre White during a pilot dry run of the last series of Hell's Kitchen, Dennis has spent time working in Burj al Arab in Dubai, Aquavit and WD-50 Restaurants in New York respectively.
Dennis is an active member of The Craft Guild of Chef, British Culinary Federation and a keen competitor with over 90 medals both National and International. Dennis was part of England Culinary Team which won England its first ever gold medal in Culinary Olympics in Erfurt Germany.