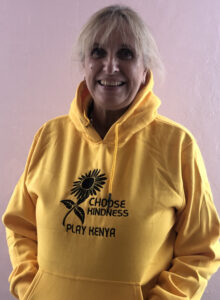 Anne-Marie Tipper Biography
Anne-Marie is the founder and ideas person that has seen the lives of so many children already changed, through her hard work, commitment and training and understanding of trauma. She set up Play Kenya in 2007 alongside Debbie Pearce and has dedicated her life to making ground-breaking changes, through education and support of staff and officials, for the children that were ignored, beaten, and driven away from society.
Following 5 years of educating and supporting projects to understand trauma and make a difference to those who had almost been destroyed by their experiences, in 2011 she opened her first therapeutic house, Rafiki Mwema, with the financial support of The Wedge Trust. This was a therapeutic safe place for small girls, as young as 18 months and up to the age of 12, who had been sexually abused, where they could be therapeutically parented, loved, receive therapy, education, and hospital care until they had testified in court against their abusers.
This one house grew and in 2014 she opened a house for 16 boys who lived on the violent, dangerous streets of Nakuru. She opened it with the same heart and love she had for the girls. It was her dream and knowledge that made this another life changing experience for the boys
Financial support came on board and this project grew from her love and plans and is still operating today. Has it been easy – not at all? It has cost her so much and she has found many wolves that fought against her. Those people are unimportant in her plans. She has brushed herself down, removed the poison she received and wishes those who want to destroy her, every success with her dreams they have made their own. Life is funny how history can re-write itself but what is most important are the children whose lives will change forever.
She has moved on to look closely at how to make genuine change for the real children and families who have had terrible things done to them. She drives a team to take what she knows and make it their own.
Play Kenya belongs to Kenya and must be managed and driven by the amazing staff and supporters from Kenya.